Cisco Meraki - Downloadable Resources
Simple and smart solutions, unified by a single platform, for today's modern workplace.
Infographics
Business Security!
Meraki TCO Infographic
Cisco Secure Infographic
10 tips to maximize your E-rate dollars
E-Books
Remote Work Solution Guide
Security Made Simple Playbook
Meraki Manufacturing Solution Guide
Meraki Construction Solution Guide
Meraki SD-WAN Overview
Meraki State and Local Government Solution Guide
10 ways Meraki Switches make Life Easier
Meraki MS Series: VoIP Deployment Guide
Meraki Financial Services Solution Guide
Small Business Network Strategy Guide
TCO Case Study
At a Glance
Why you need business security!
Meraki Go Overview
Meraki for Healthcare
Meraki BYOD Solution
Meraki for Healthcare Overview
High Density Wireless Solution
Cisco Meraki for k-12
Location Analytics for Hospitality
Meraki Multigigabit Technology Brief
Meraki MX for Education
Meraki MX for Retail
Meraki Remote Work Solution
Meraki Systems Manager for Healthcare
Meraki Systems Manager for Higher Education
MV Smart Cameras for Higher Education
MV Smart Cameras for K-12 Schools
Gigabit WiFi Migration Guide
Meraki Wireless for Hospitality
Rapid Vaccine Deployment
Cisco Meraki for Retail
8 Ways Universities Make the Most of Meraki
Flexible Solutions for K-12 Hybrid Learning
Cisco Meraki for Libraries
MV Smart Cameras for Manufacturing
Meraki E-rate Overview
Meraki Systems Manager
Meraki Wireless Assurance
Presentations
Mobilize Your Workflow!
Security Made Simple!
Cisco SD-WAN powered by Meraki
Videos
Meraki MT Installation Demo
Industrial and Indoor Sensor Solutions
White Papers
Intent-Based Networking!
Gartner Report: Cost Cutting by Rightsizing
Location Analytics
Meraki Campus Deployment Guide
Cisco Meraki Auto VPN
Dynamic Location Analytics Whitepaper
Cloud Managed IT for Modern Organizations
HIPAA Compliance Whitepaper
Managing Large-Scale Network Deployments
MS Series: Ethernet Power Study
Meraki Stacking
Network Topology
Meraki Wi-Fi 6
Wireless Health: Powerful Heuristics for Smarter Troubleshooting
Wireshark Whitepaper
Wi-Fi 6: Connected Campus Whitepaper
Data Sheets
Downtilt Panel Omni Antenna Datasheet
Dual-Band Omni Antennas (4/7 dBi) Datasheet
Air Marshal Datasheet
2.4 GHz Sector Antenna Datasheet
5 GHz Sector Antenna Datasheet
Dual-Band Patch Antenna Datasheet
Dual-Band Sector Antenna Datasheet
MV Cloud Archive Datasheet
Cloud Management Datasheet
Location Analytics Datasheet
MV Series Wireless Functionality Datasheet
Dipole Antenna (3.8/5.5 dBi) Datasheet
Dipole Antenna (3/5.7 dBi) Datasheet
Panel Omni Antenna Datasheet
Wide Patch Antenna Datasheet
MR20 Datasheet
MR30H Datasheet
MR33 Datasheet
MR36 Datasheet
MR42 Datasheet
MR42E Datasheet
MR45 Datasheet
MR52 Datasheet
MR53E Datasheet
MR53 Datasheet
MR55 Datasheet
MR70 Datasheet
MR84 Datasheet
MS Family Datasheet
MS120 Compact Series Datasheet
MS125 Series Datasheet
MS210 Series Datasheet
MS225 Series Datasheet
MS250 Series Datasheet
MS355 Series Datasheet
MT10 Datasheet
MT12 Datasheet
MT20 Datasheet
MV Family Datasheet
MV Sense Datasheet
MV Series Wireless Functionality Datasheet
MV12 Datasheet
MV22 Datasheet
MV32 Datasheet
MV72 Datasheet
MX Family Datasheet
802.3af PoE Injector Datasheet
Multigigabit 802.3at PoE Injector Datasheet
802.3at PoE Injector Datasheet
SFP Datasheet
Systems Manager Datasheet
Z-Series Datasheet
MG Cellular Patch Antenna Datasheet
Narrow Patch Antenna Datasheet
MG21/MG21E Datasheet
MR Series Datasheet - Cloud-Managed Wireless Access Points
MS120 Series Datasheet
MS350 Series Datasheet
MS410 Series Datasheet
MS425 Series Datasheet
MS450 Datasheet
MX Sizing Guide
MR74 Datasheet
Case Studies
Spanish Bank BBVA
Indoor Sensor Case Study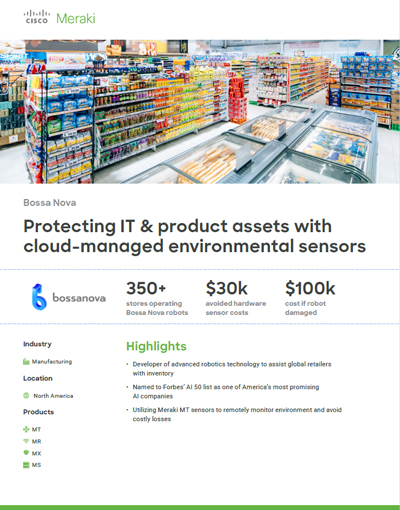 Solution Guides
Flexible Solutions for K-12 Hybrid Learning