Data Center - Downloadable Resources
Deploy business applications, data analytics, desktop virtualization, and cloud solutions faster using proven data center solutions. Experience superior scalability, simplified management, and streamlined operations. Increase your flexibility and interoperability with a programmable infrastructure built on open standards. Do all of this with less risk and lower costs.
At a Glance
Hyperconvergence at the Edge
Optimize Hyperconverged Workloads
Security in the Cisco Intersight Platform
Compute Modernization
Cisco ACI Solution
Cisco HyperFlex Systems
Cisco Unified Computing System
Nexus 9000 Platform Solution
Nexus 9000 At a Glance
Simplify and Accelerate Your Virtual Desktop Infrastructure Deployments
Cisco HyperFlex Multicloud Platform
Break Down Operational Silos With Cisco Intersight Workload Optimizer
Hyperconvergence for Enterprise Apps
Deploy Application-Aware Infrastructure With Cisco Intersight Workload Optimizer and Cisco AppDynamics
UCS X-Series
Case Study
Case Study: Square Enix
Case Study: Shutterfly
Case Study: SoftBank
Case Study: Maritime Securities
ACI-enabled data center
Case Study: Bank Central Asia
Exmar Chooses Cisco HyperFlex and Cisco Intersight Over Public Cloud
Dodgers are Revolutionizing Data Analytics with Cisco HyperFlex
Case Study MacStadium
Case Study: University of Minnesota
DataSheets
Cisco Application Centric Infrastructure Solution
Cisco Cloud Application Centric Infrastructure
Cisco Application Policy Infrastructure Controller
The Next Frontier for Cloud Networking: Cisco Nexus 400G Brochure
E-Book
Cisco ACI eBook
Managing the Anywhere Data Center
Accelerate AI with Cisco Computing Solutions
HCI Handbook: An Innovators Guide to Achieving the Hyperpossible
Cisco UCS: The Platform for Data-Intensive Applications
UCS Solution Overview
Infographics
IDC HyperFlex Business Value Snapshot
Advantages of Cloud-Based Systems Management
How good are you at speaking 'switch'?
Modernize your compute Infrastructure
Rethink Cloud Operations with Cisco Intersight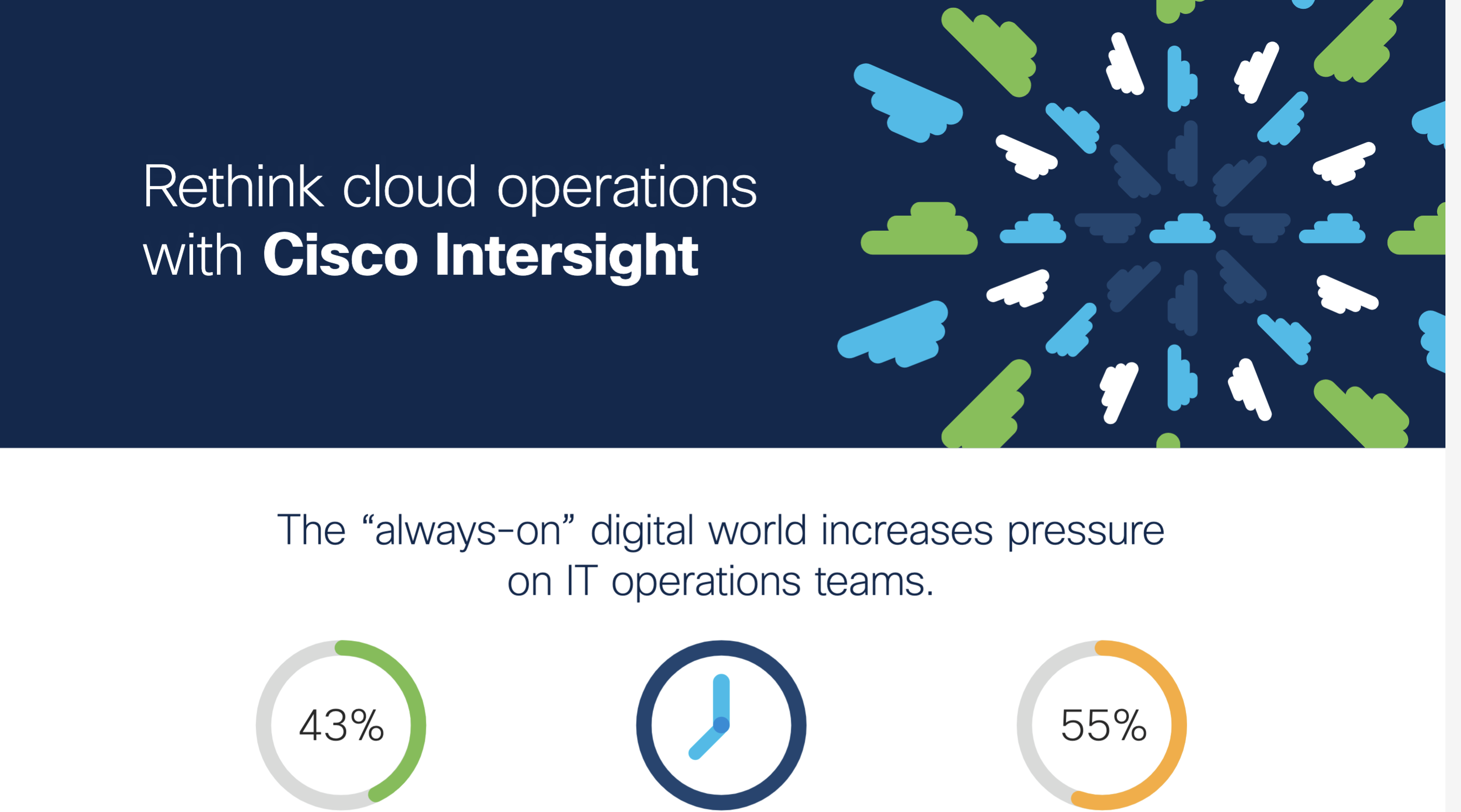 Fulfill your Hybrid Cloud Vision with Cisco
Advantages of Cloud-Based Systems Management
Data Center Enterprise Agreement
Cisco HyperFlex Multicloud Solutions
UCS X-Series
Nexus Dashboard
Presentations
Cisco ACI
Nexus 9000 BDM deck
Changing the Economics of the Datacenter
HyperFlex Anywhere BDM
Thought Leadership and Research Reports
Cisco ACI 451 Research Report

ESG Report: HCI performance testing on UCS
451 Research Report_Delivering the Cloud Experience on Hyperconverged Infrastruture
UCS ESG Report: The Economic Benefits of Cisco UCS and the Cisco UCS TCO/ROI Advisor Tool
HyperFlex ESG Report: Mission-critical workload performance testing of different hyperconverged approaches on the Cisco Unified Computing System platform
Transforming Businesses with Artificial Intelligence
How to Optimize Cloud Operations for the Best User Experience
VDI: Meeting New Remote Work Demands That Enable Any Application, Anywhere
IDC Report: Business Value of Improved Performance and Agility with Cisco Hyperflex
451 Research's Report on Hyperconverged Infrastructure Requirements to Accelerate Data-Driven Insights
451 Hybrid Cloud Research Report
ESG Report: Cisco's Optimized VDI

Videos
Cisco ACI Anywhere
Cisco ACI Walkthrough
HCI Performance from ESG
Cisco Nexus 9000 switch
On-Demand Demo: Cisco Intersight
On-Demand Demo: Cisco Intersight Infrastructure Services
Introductory Video: Intersight
Introductory Video: Intersight Workload Optimizer
EXMAR Achieves Greater Efficiency with Cisco HyperFlex and Intersight
WhitePapers
IDC HyperFlex Business Value
IDC Report: Distributed Multicloud
IDC HyperFlex Business Value
Cisco ACI Virtual Edge
Integrated Infrastructure Evolution and Focus Areas
Application Performance Records
Cisco Delivers Better Management Capabilities for Rack Servers
Network Assurance
Cisco's Hybrid Cloud Infrastructure Enables Cost-effective, Optimized Virtual Desktop Infrastructure
ACI Design Guide
Cisco Nexus 400G Deployment Guide
VXLAN EVPN Multi-Site Deployment Guide