Cross Architecture - Downloadable Resources
Cisco's architectures provide enterprises with the foundation for navigating disruption and building a secure, scalable and reliable infrastructure for today and tomorrow.
At a Glance
Rapid Response Network Bundle
Cisco AMP for Endpoints
Cisco Umbrella
Cisco Duo Tipsheet
Security Enterprise License Agreement
Cisco AnyConnect
Cisco Security - Secure Remote Work
Cisco Webex Meeting Security
Cisco Easy Pay
Cisco SD-WAN Security
Cisco Designed
C&Z At a Glance
(Gov): Empowering the continuity of justice while embedding resilience
(Gov): Cisco Connected Communities Infrastructure
(Gov): Building your Business Case for Hybrid Work Environments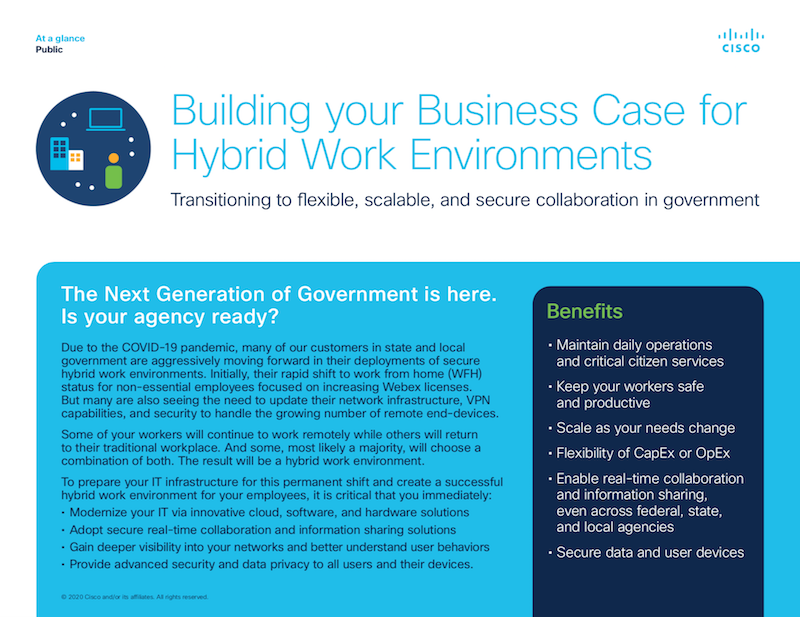 (Edu): Hybrid Learning
Maintain a Trusted Work Environment with Cisco DNA Spaces
Cisco Digital Learning Subscriptions
Cisco Business Critical Services Data Center
Cisco Business Critical Services Enterprise Networking
Cisco Business Critical Services for Collaboration
DataSheets
Cisco Security - Secure Remote Worker
Webex Meetings Privacy
Cisco Designed Portfolio
E-Books
Meraki Remote Work Solution
Business Resiliency Program
A Guide to Secure Collaboration
Cisco Designed
Security Made Simple
Embracing the hybrid workplace with Cisco Webex
Best practices for establishing secure distance learning in higher education
Infographics
4 Keys to Preventing a Cybercrime Attack
3 Reasons "Always-On" Technology Makes Sense for Small Business
5 Ways Cloud-Based IT Can Help Your Small Business
Work from Home Infographic - 5 questions
New Office Inforgraphic Checklist
New Office Infographic 5 things to ask
Five tips to enable a remote workforce securely
Verify, Access, and Defend With Cisco Secure Remote Worker
Are Your Collaboration Tools Secure Enough?
Cisco Webex : Reimagined
Webex Meeting Power Tips
Easy Pay Customer Infographic
Cisco Designed
Small Business heroes, meet Cisco solutions
Business Resiliency
(Webex and Security): Remote Workers Secured
(Manufacturing): Workforce Continuity
(Healthcare): 5 ways to expand patient-centered care with Webex
(Gov): Virtual Courtroom with Webex
(Gov): Next Generation Polling Stations
(Security): Five tips to enable a remote workforce securely
(Edu): US E-Rate Tips for Libraries
5 Tips for Monitoring Activity at Your Small Business
3-Point Plan for Monitoring Your Small Business
Presentations
Cybercrime Protection
Work from Home
Cisco SD-WAN
Cisco COVID-19 Use
Cisco Security - Secure Remote Work
Webex Secure Remote Work
Cisco designed portfolio
Why Cisco for Small Business?
Cisco Designed Workplace Monitoring
Videos
Cross Architecture
Small Business
Work from Home
Secure Remote Worker
Uncover the 1%
Easy Pay
(Webex): Safe, Private, and Secure
(Small Business): Work from Home
(Security): Remote Worker Explainer
Workplace Monitoring Long Video
Workplace Monitoring Short Video
Workplace Monitoring Short Video Captioned
Catalyst 8000 Series Edge Platforms Overview
New Office
Work From Home
Cisco Digital Learning Subscription
How to use Cisco Digital Learning
WhitePapers
Essential Guide to Cybercrime Protection
Work From Home - The Essential Guide
Secure Remote Worker
Intent-Based Networking
Cisco SD-WAN Services Solution Overview
IDC Business Value Report on Cisco SD-WAN
Thought Leadership and Research Reports
Freeform Dynamics: Safe and Effective Remote Working
Other
Checklist (Edu): Prepare your school network for what comes next, securely
Case Study
Workplace Monitoring Case Story
Case Study (Edu): Best Practices for Establishing Hybrid Learning Environments